Home (Western Shipping News)
Details

Created on Tuesday, 31 January 2012 08:00
News - April 12 2018







News - April 11 2018







News - April 10 2018

蘇美璐在英國習畫,也留英發展,跟外國出版社合作,是很早就在西方闖出名堂的香港插畫家。.









News - April 9 2018

BENCHMARK EXPORT SVC
DYNASTY FREIGHT
AI FREIGHT SVC
CONTURK SHIPPING
GLOBAL PROJECT
FALP VIETNAM JOINT STOCK CO
WEI FUNG INTL LOGISTICS
TCC LOGISTICS
GLOBAL MARITIME SVC
ROYAL CARGO
RAPID CARGO
RAPID CARGO UK SVC
ROYALTAINER CORPORATION.





News - April 6 2018









News - April 4 2018









News - April 3 2018









News - March 29 2018













News - March 27 2018









News - March 26 2018









News - March 21 2018













News Title

 

Whether it's waiting up for a response to an unanswered text, replying to work emails long after the end of the business day, or aimlessly scrolling through Instagram, even the most disciplined among us can be found at least occasionally—if not regularly—tucked into bed with our smartphones tightly in hand or nestled under our pillows. In a Gallup survey, 63% of respondents admitted to keeping their smartphones close by while sleeping. But aside from the generalized guilt that comes with procrastinating before bedtime, is it actually dangerous to sleep with your smartphone? We turned to several experts in fields like chemistry, sociology, and psychologyto identify and explain the risks associated with sharing your bed with your electronic devices. Brian Zoltowski, Ph.D.Assistant Professor, Department of Chemistry, Southern Methodist University FOR ELECTRONIC DEVICES LIKE LAPTOPS, phones, anything with a LED or LCD display, the problem is that they produce a large amount of artificial blue light. Our natural cue to what time of day it is, primarily to know when morning is, is blue light. By exposing ourselves to large amounts of blue light late at night, we are giving our bodies a cue that it's time actually to wake up instead of go to sleep. This can lead to defects in our circadian rhythm, and it's been shown that when we have our biological clock out of phase with the natural day-night cycle outside, that can lead to increases in the rates of diabetes, cancer, heart disease, and even depression. Mariana Figueiro, Ph.D.Professor, Lighting Research Center Light and Health Program Director, Rensselaer Polytechnic Institute IT DEPENDS ON THE KIND OF DEVICE and how long people are being exposed to it, but there's clearly a potential for suppressing melatonin in the evening, which is the hormone we start producing a couple of hours prior to bedtime. Melatonin is essentially a nighttime or darkness signal, telling us it's time to go to bed. So, if you delay the onset of that signal in the evening, by being exposed to too much light coming from those devices, you may be delaying sleep times. Then, if you have a fixed wake up time and can't sleep in to compensate, you are experiencing sleep deprivation. Even if you filter the light of the display or somehow protect yourself from it, it may be just as bad, because you're still depriving yourself of sleep by staying awake to use the device. Sleep deprivation has been linked to a series of things—it's been shown that after five consecutive days of five hours of sleep instead of eight hours, people can become pre-diabetic or become hungrier. In the short-term, you become sleepier during the day, and you may reduce daytime performance. And then long-term, you may have more serious consequences, such as increased risk for obesity, diabetes, cardiovascular disease, and even increased risks of cancer. I'm not saying that these self-luminous displays cause cancer—that would be a big statement. But you want to minimize disruption of circadian rhythms and the curtailment of sleep as much as possible. Mary A. Carskadon, Ph.D.Professor of Psychiatry & Human Behavior, Brown University SLEEPING WITH THESE TYPES OF DEVICES IS NOT TOO WISE, primarily because of their association with disrupted sleep. From TVs to computers to tablets and smartphones, young children's sleep seems to be very compromised. Whether these devices disrupt sleep because of noise, light, social interactions (or the promise of them), such devices take a toll. The downsides of insufficient and disrupted sleep are many, including learning and memory deficits, cognitive impairment, metabolic difficulties, depressed mood, disrupted immune function, and excessive fatigue—to name a few. A counter argument, however, goes that people who suffer anxiety when parted from electronic devices will have disrupted sleep if they don't have the devices in their bedrooms and preferably in their hands.





News - January 14 2018

當今還剩幾種食物值得人們解放雙手?能簡單讓人做到專注於眼前的食物,並且真真切切的感覺得到有人

"

陪自己吃這頓飯

"

。

是的,飯局的最高境界就是讓所有人放下手機,抓起一隻蝦,你的微信,微博,

Facebook

黯然思色,你的鬥志激情昂揚,因為要和桌上的其他人搶個飛快才能吃到的更多呀!



News - January 11 2018

A 500-year-old painting of Christ believed to have been painted by Leonardo da Vinci has been sold in New York for a record $450m. It is the highest auction price for any work of art and brought cheers and applause at the packed Christie's auction room.

Leonardo da Vinci died in 1519 and there are fewer than 20 of his paintings in existence.

Salvator Mundi, believed to have been painted sometime after 1505, is the only work thought to be in private hands. Bidding began at $100m and the final bid for the work was $400m, with fees bringing the full price up to $450.3m. The unidentified buyer was involved in a bidding contest, via telephone, that lasted nearly 20 minutes. The painting shows Christ with one hand raised, the other holding a glass sphere.

In 1958 it was sold at auction in London for a mere 45 pound. By then the painting was generally reckoned to be the work of a follower of Leonardo and not the work of Leonardo himself. It apparently was part of King Charles I of England's collection in the 1600s and got lost, but was "rediscovered" in 2005.



News - January 11 2018

 





News - January 10 2018

A 15-year-old disabled Chinese boy Yan Yuhong, who became one of the torchbearers for the upcoming 2018 Winter Olympic Games in Pyeongchang,South Korea would take part in the torch relay from January 1 to 3. Yan, from Jiangba village in Yibin,Sichuan Province, was left partly paralyzed by polio in his childhood. He chose to walk on his hands thereafter to "run" faster. He had to spend more than three hours between school and home. After receiving several surgeries, Yan could finally stand up on his own feet. Now, he is able to walk slowly with crutches. In 2014, Yan participated in the Eighth Sichuan Provincial Games for the Disabled People and won three medals in swimming competitions. Yan said he will show the indomitable spirit and perseverance of Chinese disabled youth in South Korea. Yan's story has inspired many people home and abroad.



News - January 10 2018





News - January 9 2018

咱们今天晚餐的主角大龙虾終於轰轰烈烈地从后厨被端了出来,

Q弹鲜嫩的肉质配上些许的烟火气,简单的sea salt和淡淡的香辛料调味,

一大口咬下去,开心得像个两百斤的胖子。





News - January 9 2018

Peter and Cole from Weatern Shipping visited Evergreen and 

met with Linna to discuss 
how to improve South American market. 


Afterward, they had a dinner meeting with Mr. Wu the manager 

of Cosco Logistics.





News - January 8 2018

西雅图即将拥有世界上第一个透明旋转餐厅,准备好了吗?

站在玻璃上看百米高空下的景物, 光想一想就能让有恐高症的我,小心肝砰砰直跳,手心冒汗。

旋转餐厅SkyCity,不光是地板,连桌子椅子都要换成透明的, 让前来用餐的人们,可以透过自己的桌上俯瞰百米以下的风景。

等餐厅全部返修完毕,咱们就可以在这个世界上第一个透明的旋转餐厅吃饭啦! 到时候搭配着全新的菜单,绝对会给你一次"难忘"的体验。





News - January 8 2018

Western Shipping is promoting LCL for Euro Service.
If you have any quotation, please feel free to contact Western Shipping Shanghai Branch .
Contact Details:Kaei
TEL: 021-51873199
Email: This e-mail address is being protected from spambots. You need JavaScript enabled to view it.


News - January 7 2018



News - January 7 2018



News - January 4 2018

厨师现场精心烤制的整块Prime Rib任切任吃,

想要什么熟度,厨师就给你片什么部位的肉下来。

平常一份牛肉就已经是main dish了,

而这次它只是自助餐的一个……

appetizer 我觉得? ​​​​



News - January 4 2018



News - January 3 2018





News - January 3 2018

Scientists studying Alzheimer's have found that staying moderately active can lead to healthier brain functions in those at risk of developing the disease, potentially giving us another clue how to beat the condition. In particular the research looked at glucose metabolism, the process that gives brain cells the right amount of fuel, and that also happens to break down with the onset of Alzheimer's. "This study has implications for guiding exercise 'prescriptions' that could help protect the brain from Alzhimer's disease," says one of the team, Ryan Dougherty. "While many people became discouraged about Alzheimer's disease because they feel there's little they can do to protect against it, thesee results suggest that engaging in moderate physical activity may slow down the progression of the disease." plenty of previous studies have found associations between exercise and improved memory, and there's a growing pile of evidence that exercise boosts brain power as well as other parts of the body. Now we just need to figure out how Alzheimer's fits into all this. According to one of the researchers, Ozioma Okonkwo, ongoing researchcontinues to take a closer look at how exercise could perhaps protect the brain from the onset of Alzheimer's off the back of this new study. "Seeing a quantifiable connection between moderate physical activity and brain health is an exciting first step," he says.



News - December 30 2017

Why are airplanes generally painted white?

The color is to do with thermal advantages, safety and financial reasons.white reflects sunlight, and reflects almost all the light that falls on it, unlike other colors, which absorb some of the light. This is better as it prevents the plane from overheating and take a shorter time to cool down when it is stationary on the ground after a flight. There are also safety reasons too as white is easier to insect cracks and dents on the fuselage. White is also beneficial as it can show corrosion marks and oil leak spots easily. White is also better for visual purposes if the plane is the unfortunate scenario of being in the body of water. Overtime, darker colors also tend to fade whilst being in the air due to atmospheric conditions. The cos repainting a plane can be high and time consuming too, with a plane said to take up to week to paint. From a financial standpoint, white planes also tend to have a higher resale value than colored ones.



News - Arts - December 28 2017

The Night Watch, is a 1642 painting by Rembrandt van Rijn, it is in the collection of the Amsterdam Museum but is prominently displayed in the Rijksmuseum as the best known painting in its collection. In the painting, the light intensity contrasts strongly, and the oil painting becomes darker with each passing year, which makes people mistakenly think that the scene of the night is depicted, and this is the reason they name is "The Night Watch".



News - Sports - December 27 2017

Brazil legend Kaka has announced his retirement from football at the age 35. After he played his last match for Orlando City. Kaka wrote. "Thank you! Now I'm ready for the next journey."



News - December 26 2017

Western Shipping Line NEW weibao account has been launched, we will regularly update our activities and products, as well as update the newest information on Sports, Technology and arts ..etc, (PLEASE STAY TUNED)



News - December 19 2017

Western Shipping is promoting FCL for update Europe Service. If you have any inquiry, please feel free to contact Western Shipping Shanghai Branch.

Contact Details:Kaei

TEL:021-51873199

Email: This e-mail address is being protected from spambots. You need JavaScript enabled to view it.


News:

The China Academy of launch Vehicle Technology (CALT) at China Aerospace and Technology Corp is collaborating with major domestic institutions to co-develop reusable launch vehicles, scheduled to undertake maiden flights by around 2020



News - Sport

UEFA Champions League elimination round is coming up. The picture shows the various teams.


News - November 16 2017

Western Shipping have meeting with our VIP customer NeuTrends Ron and Rene from Germany and we visited the SSWW factory In Novemeber 16th.





Western Shipping Train Service from China to Germany - Linking the east and West
We are proud to announce that Western Shipping (HK) has recently started its new train service from China to Germany.  

For more assistance, please contact our local customer service representative:
For Shipment out of the Northern ports of China:
Contact : Ms. Tracy Ma
Mobile# +86-18061516017
Email: This e-mail address is being protected from spambots. You need JavaScript enabled to view it.

For Shipment out of the Eastern ports of China:
Contact : Mr.Cole Du
Mobile# +86-18930277631
Email: This e-mail address is being protected from spambots. You need JavaScript enabled to view it.

For Shipment out of the Southern ports of China:
Contact: Alex Kiang
Mobile# +86 13925265321
Email: This e-mail address is being protected from spambots. You need JavaScript enabled to view it.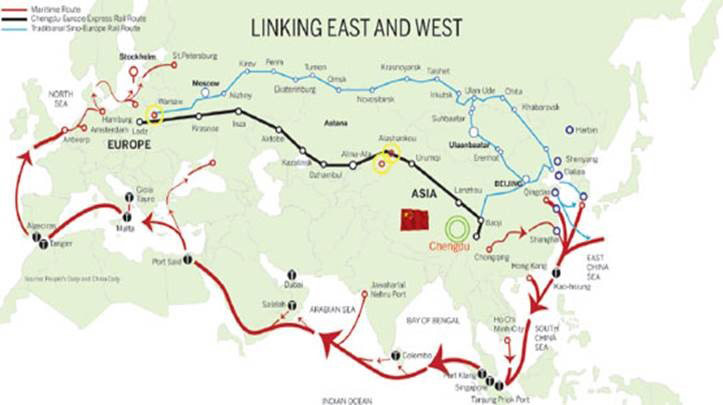 ISO Certified International Freight Forwarder® -- ISO9001:2008 No.A0015Q0037R0S
Western Shipping is one of the first freight-forwarding companies, We are not only a Licensed Multimodal Transport Operator awarded an ISO 9001-2008 Certification, but also a member of the following important organizations.

What's New?
To implement the obligation of partnership, Here comes the TFS GLOBAL FORWARDERS MEETING which is going to be held on October 2-5, 2017 in Malaysia. To researve a one-on-one meeting with us, please leave your contacts to us at
Mr.Jay Zhang This e-mail address is being protected from spambots. You need JavaScript enabled to view it. / Mrs.Lulu Ngan This e-mail address is being protected from spambots. You need JavaScript enabled to view it.
WHAT: The Freight Summit 2017
WHEN: October 02 – 05, 2017
WHERE: Grand Hyatt, Kuala Lumpur, Malaysia

New branch in Qingdao
We are very pleased to announce that Western Shipping Qingdao Ltd was opening from Jan 2017. We will start with the freight forwarding business and shipping agency from the beginning.

Station Manager: Paul Qin
WESTERN SHIPPING (QINGDAO) LTD.
Direct: 0532-8197 0958     Fax: 0532-8197 0855
Mobile: 18669851168
Email: This e-mail address is being protected from spambots. You need JavaScript enabled to view it.

OP Manager: Linda Rong
WESTERN SHIPPING (QINGDAO) LTD.
Direct: 0532-8197 0853     Fax: 0532-8197 0855
Mobile: 13969776060
Email: This e-mail address is being protected from spambots. You need JavaScript enabled to view it.

Please see attached link for the introduction of our new office:
Western Shipping Qingdao
News:



Western Shipping recently attended the CLN15th Annual Partnership Meeting for global freight forwarders in Vietnam (March 14-17, 2017)

Western Shipping has participate The Freight Summit in Bali, Indonesia from October 9-­12, 2016.

News: Oct 13- 15th 2013. WESTERN will Join TFS Bangkok Global Meeting.

News: WESTERN is a Member of China Logistics Clubs.
News: May 1st, 2013. WESTERN Become agent in Guangzhou of Billing Shipping Agency Corp Taiwan.
New Service

We are pleased to announce that Western Shipping HK have signed new contract with Cathay Pacific Airline on Mar 23, 2011. We offer attractive rates ex HKG to Intra-Asia countries.  Please feel free to contact our sales department for further information. Thank you.
Western Shipping (Shanghai) LTD - Wuxi Branch
RM 806, HoDo International Plaza, 531 Zhongshan Road, Chonganou Tin City, 214003
Tel: +86-510-81807577
Mobile: +86-18061516017
Email: This e-mail address is being protected from spambots. You need JavaScript enabled to view it.
MSN: This e-mail address is being protected from spambots. You need JavaScript enabled to view it.
New Address of Shanghai office (Jan 2010)
Address: Suite# 1104, No#188 Si Ping Road (Commercial Bldg)
Shanghai, China, 200086
Tel: +86-21-51873199 (Rep) Fax: +86-21-65217363
Ctc: Peter Chang (email: This e-mail address is being protected from spambots. You need JavaScript enabled to view it. )
New service : Track and Trace (May 2007)
New service : West Travel (May 2007)
New service : Mediterranean Sea Support (May 2007)
Hope worldwide work (Feb 2006)